Coming Soon
April 13th - 27th, 2019

Our surprise this year?
We will have a crochet option this year that very closely matches the knit version of the mystery knitted pattern for 2019.
With the purchase of each passport, you will receive a mini skein of a custom color designed and dyed exclusively for our 2019 participating shops! We've named it 'West Michigan Blooms' and it is so gorgeous. Thank you to Mountain Colors Yarn for all your hard work in producing this gorgeous colorway! So, the passport is $10, and you receive the mini when you purchase one. But save it for later, because it's use

d in the pattern that you collect pieces of during the quest. Yarn Quest is April 13-27, and the passport gets you 20% off yarn at participating stores, pieces of a free pattern that you collect at each store (the design will be revealed on April 13), and the chance to win loads of prizes.
Passports and the mini yarn still available at the New Ewe...
Better get them soon they're going fast!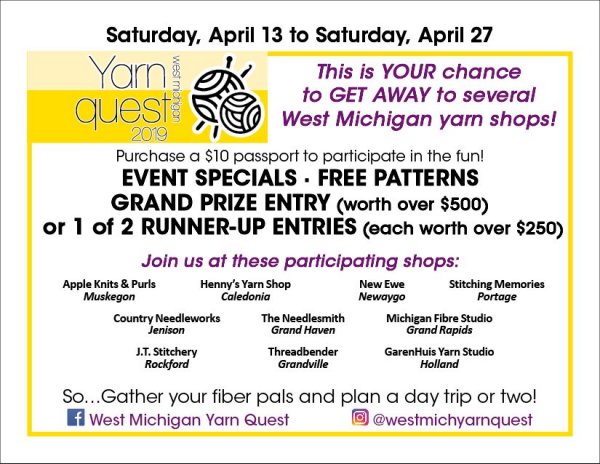 Morning Sky Knit-A-Long

Wednesday, May 15th, 2:00-4:30 pm
Wednesday, June 19th 2:00-4:30 pm
Cost: $25.00 Includes both sessions
15% discount on class materials & during class.



This spring/summer sweater is knit from the bottom up, in the round with NO SEAMS! Join us for this fun, 2 session knit-a-long where Jane will help you through the sweater making process and show you how to adjust the fit to your body.

We will be using the pattern "Morning Sky" by Heidi Kirrmaier. This pattern is available on Ravelry and has 8 sizes from XS to XXL. It is intended to fit with 1-3 inches of ease at the bust.

Jane will show you how to adjust the fit to your body by changing needle size instead of using increases and decreases. Therefore it is suggested that you bring needles in a size smaller and larger to the first class.

As a Knit-a-long, you will be working on your own throughout most of the project. The first session will show you how to decide which size to knit and which needles to use, help you decide on which yarn to use, and how to compensate for possible color variations if you choose a hand-dyed yarn. Jane will help you get started and make sure you understand the bear track pattern used as a hem.

During the second class session, we will address how to start the sleeve and yoke section and will include information on how to compensate for the larger girth many of us have at the upper arm. Jane will also talk about the possibilities of creating longer sleeves.

Check out New Ewe Calendar for Dates & Time


Join the FUN and follow us on
The New Ewe Yarn & Quilt Shoppe
Store Hours
Monday-Saturday 10-5
Wednesday 10-7
Sunday Closed
Webstore 24 hrs.


wwwnewewe.com