Greetings!
It's Day 2 of Summertime Santa Work Shop

at the New Ewe Yarn & Quilt Shoppe!
This is the second of 7
special offers -
one each day from now until

August 15th

.

To take advantage of the special price, all you need to do is click on the link
Jody@newewe.com
and we'll prepare your selections!
Be sure to leave your FULL NAME and Phone Number.
Please request which daily special you can't live without...Quilting, Knitting, or Both!!!
We will be sending a new email each day with the special item of the day.
Feel free to purchase as many items as you'd like.
The special deal for each of the items is only available until the next email so be sure to check your emails daily!
Details on when the "Work Shop" projects are ready will come later thru an email.

If you want to participate but live a distance away, we will be happy to ship your purchases (we will add the shipping charges to your total).
This is the perfect way to get started on making your gift-giving gifts!!!

Some items have a limited supply - reply early!


Day 2 Quilting
BladeSaver Thread Cutter
&
Scissors Tin


(A) Green


(B) Pink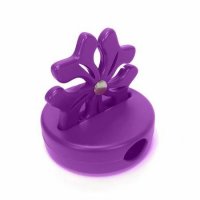 (C) Purple

Don't discard old rotary blades, use them in the BladeSaver Thread Cutter! Product Features: Give your used 45mm rotary blades extended life by using them in the BladeSaver Thread Cutter and make cutting your chain pieced fabric projects fast and easy.
Each BladeSaver comes with a magnetic case to keep your thread cutter safe when not in use or when taking it to class.
The BladeSaver case doubles as the blade stand to hold your thread cutter securely in place during use. *Assembly requires #2 Phillips screwdriver (not included) *Requires a 45mm rotary blade (not included) Compatible with all 45mm blades



Small Tin with Scissor Design



This small tin is the perfect combination of cute and practical! This charming tin has you covered for storing small sewing accessories such as thread, bobbins, needles, floss, and more; a great way to keep those little items organized.