We are hosting a Pumpkin Party!

RSVP and let us know if you can attend...
Don't Miss out on all the fun!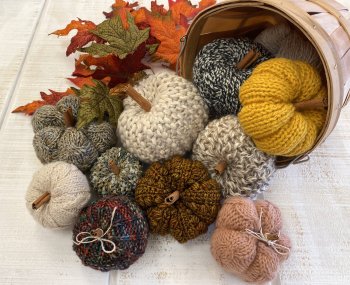 Join us at the New Ewe on Tuesday Evening, October 12th, from 5:00 - 7:00 pm for a fun evening with yarn friends!
We will have a free pumpkin knitting or crochet pattern available for everyone who comes. Bring some needles/hooks (see sizes needed below), grab some yarn here at the store (we will have some kits available!), and cast on some cute fall decor with us!
These adorable pumpkins are so cute for adding to your fall decor or gifting to a friend.



This is the perfect opportunity to come and check out the selection of new yarns we have gotten in recently. We also have some adorable, locally crafted, holiday stitch markers available that are perfect for your fall knitting projects!
As a thank you for joining us, you will receive a harvest of a deal on any notions purchases...15% off!

We will have some yummy snacks and drinks available...come and sit and stitch with us for a bit!

Needle/hook sizes: Our crochet pumpkin pattern calls for an H-size hook (G or I would also work).
There are (2) options for knitting patterns. The first calls for size US 9 needles (either double points or a 16" circular). The second calls for size US 8 needles (either straight or 24" circular; a size US 7 would work for this pattern as well).
Needles and hooks are also available for purchase at the New Ewe.


Yarn Quest coming
October 15!!!

Passports are available at the
New Ewe Yarn & Quilt Shoppe






The Felix Sweater Class:

October 28, 2021 1:00pm - 2:00pm
November 4, 2021 1:00pm - 2:00pm
December 2, 20211:00pm - 2:00pm
Class Fee: $25.00
Includes 3 Kal sessions & 15% discount on supplies
The Felix sweater is a cropped top-down raglan style sweater that can be knit as a cardigan or pullover.
It has a beautiful eyelet motif incorporated into the raglan increases. This was designed to be the perfect sweater to wear layered over tunics or dresses and is perfect for the cooler fall/ winter weather.
This sweater is a very easy and quick knit with worsted/light Aran weight yarn worked at a relaxed open gauge.
This Knit-a-long will meet in 3 different sessions. Each session will last one hour and be followed by our open knitting time, you are welcome to stay and continue to knit with us! Before the first session please have your pattern and supplies purchased (we can help you with that) and create a test swatch to check for gauge.
Then we will be ready to get started!


This year again we are supporting


Operation Christmas Child!
We are honored to be one of Newaygo's pick-up boxes to be filled and drop-off locations.

What is Operation Christmas Child?
The Samaritan's Purse project Operation Christmas Child collects shoebox gifts filled with fun toys, school supplies, and hygiene items—and delivers them to children in need around the world to demonstrate God's love in a tangible way.

How do I participate?
*Start with an average-size cardboard or plastic shoebox. If you want to wrap it, cover the box and lid separately.
Free preprinted boxes are available here at
the New Ewe.

Girl or Boy
*Decide whether you will pack a box for a girl or a boy, and the age category:

2–4,

5–9,

or 10–14.


Gift ideas
*Doll and or accessories such as doll clothes, doll blanket, doll /stuff animal, Slumber Party Sleeping bag, small frisbee, marbles, jump ropes, small musical instrument (such as a harmonica or wooden recorder).
Foam or tennis balls, Slinky, Etch A Sketch, play cars/trucks/boats, Interactive toys that include push buttons, lights, noise (include extra batteries)
An outfit of clothing to wear, socks, underwear, hat/scarf/mittens, sunglasses, flip flops, jewelry, wristwatches, tote bags/purses, school supplies, hair accessories, combs, toothbrush, washcloths (knitted/crochet makes a great cloth), flashlight, nail clippers/files, stick deodorant, bar soap (package or in a container). Adhesive bandages (Colorful ones can help a child be more willing to wear a bandage. Do not include liquid antibiotic ointment.)

Just a few ideas...be creative! Handmade toys are always a hit!!!
Items to avoid:
*Candy; toothpaste; gum; used or damaged items; war-related items such as toy guns, knives, or military figures; chocolate or food; seeds; fruit rolls or other fruit snacks; drink mixes (powdered or liquid); liquids or lotions; medications or vitamins; breakable items such as snow globes or glass containers; aerosol cans.
Drop Off:
*Take your shoebox gift to the New Ewe during the National Collection Week, November 17-20.
*Donating $9 per box is critical to cover shipping and other project costs. For easiest processing, you can give online, or give a check using the attached postage-paid envelope.
Samaritanspurse.org/occ
PRAY
*Most importantly, pray for the child who receives your gift. Include a personal note and photo to delight the heart of a child

Questions
*Contact New Ewe Yarn & Quilt Shoppe
231-652-5262
Many Blessings to All!!!
Join the FUN and follow us on
New Ewe Yarn & Quilt Shoppe
Store Hours
Monday-Saturday 10-4
Sunday Closed
Webstore 24 hrs.


wwwnewewe.com