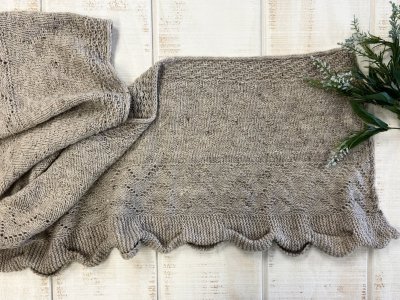 "Let's Get Started" Penn Cove Shawl Workshop
Saturday, September 16th, 10:30-12:30
Join knitwear designer Ruth Boelkins for a fun two-hour session for beginning this pretty shawl. She will share the story behind the design and help you shop for yarn, practice the stitches, and learn all about the pattern in your time together.
Then you cast on and work at your own pace. Ruth will return for a bonus informal "Knit & Chat" session on October 7th, so you can share your progress and get any help needed. She will also bring samples of two new Fall 2023 patterns: Wingspan (scarf) and Benchmark (sweater) to that session.
You can hear the design process for these patterns and even shop yarn with Ruth's help if you're interested in starting one!
About the Shawl: Penn Cove is a medium size shawl written for sport weight yarn. It is a slightly tapered rectangle that's seamless, but knit in two different directions. This design uses basic knit and purl stitches, yarn over increases, directional decreases, and basic cables. The stitch patterns are provided in written rows. You can learn how to keep track of two patterns at a time, as you make decorative edges throughout while working different pattern sections over the body of the shawl. Penn Cove is a suitable first shawl, but experienced knitters will enjoy the variety and special techniques as well.
You will learn about blocking and finishing too.
About the Workshop: It is not necessary to select your yarn before the workshop. We will begin with an introduction about the design, and then we will shop for yarn together in the store! Ruth will help you choose from sport, dk, and worsted weights, depending on the fabric and weight of the shawl you'd like to achieve. Get her advice on selecting one or two colors too. The workshop will continue with you swatching using your own yarn and practicing all the stitches in the shawl. Ruth will talk through the construction and make sure you're ready for each step of the shawl before you leave.
Supplies Needed for Workshop: bring a few sizes of needles in 20" or longer circular length - 6, 7 & 8 should do it; purchase the pattern on Ravelry and bring it printed or on your digital device; stitch markers; straight cable needle or a single double point needle in similar size to needles.
Class Fee: $40.00
Includes 2 Sessions + 15% off discount on class materials & during class.
"Knit & Chat" session on 10/7 is a bonus and only open to Shawl workshop attendees, but it is optional to attend.
Please Call New Ewe to sign up or with any questions.
231-652-5262.
New Ewe Hours:
Monday - Saturday
10-4
Sunday Closed
Knit, Quilt, & Create!
Join the FUN and follow us on
New Ewe Yarn & Quilt Shoppe
Store Hours
Monday-Saturday 10-4
Sunday Closed
Webstore 24 hrs.


wwwnewewe.com