Skip Navigation
Website Accessibility
Pink Graphite Shawl Kit
Note: Fabric yardage may be adjusted on closeout bolts to fill the website order if needed.
Pink Graphite Shawl Kit-Featuring Berroco Vintage DK. This design is a large right triangle worked sideways featuring an easy eyelet section & a border that is picked up along the lower edge. Size 67" from tip to tip, 28" from the upper edge to lower tip.
Kit Includes 3 Skeins of Berroco Vintage DK and pattern.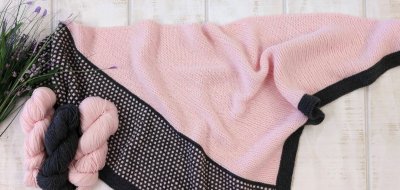 Berroco Vintage DK will quickly become your go-to yarn for any project!
Its unique fiber blend makes laundering a breeze and is perfectly suited for easy care garments for both children and adults
Available in a beautiful selection of solids and heathers, this worsted-weight, machine-washable yarn is perfect for anything you can dream up.

Product Info: Berroco Vintage DK

Description: 52% Acrylic 40% Wool 8% Nylon
Handling: Machine Wash, inside out in cold water, gentle cycle Lay flat to dry.
Gauge: 5.5 stitches = 1" on #6 US 4mm
Crochet Gauge: 4.5 scs=1" Hook G
Weight: DK 100 grams 3.5 oz
Yardage: 290 yards
Country of Origin: Peru